How To Use A Post Process Render Pipeline
Post Process Renders pipelines allow you to create a chain of post processes and attach it to a camera. A render pipeline can be managed by enabling and disabling some effects and displaying a specific pass for debugging.
Base Render Pipeline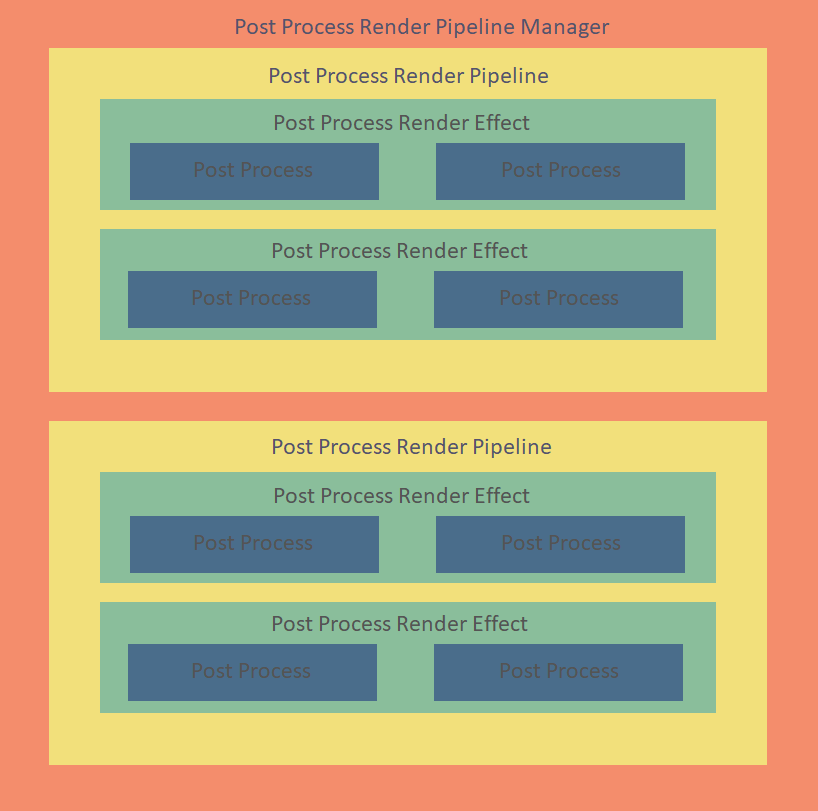 Renders Pipelines are composed of several classes.
Class
Description

Class

BABYLON.PostProcessRenderPipelineManager

Description

Managing all pipelines, allow you to enable or disable an effect, displaying a pass of post process for debugging.

Class

BABYLON.PostProcessRenderPipeline

Description

Set of effects that can be ordered.

Class

BABYLON.PostProcessRenderEffect

Description

A render effect contains one or more post processes.

Class

BABYLON.PostProcess

Description

A render pass which will apply a shader.
Let's play with Render Pipeline
Simple Pipeline
Create pipeline
var

 standardPipeline 

=

 

new

 

BABYLON

.

PostProcessRenderPipeline

(

engine

,

 

"standardPipeline"

)

;
Create post processes. Note: Camera parameter is set to when using a pipeline and post process will be enabled when the pipeline is added to the camera.
var

 blackAndWhite 

=

 

new

 

BABYLON

.

BlackAndWhitePostProcess

(

"bw"

,

 

1.0

,

 

null

,

 

null

,

 engine

,

 

false

)

;

var

 horizontalBlur 

=

 

new

 

BABYLON

.

BlurPostProcess

(

"hb"

,

 

new

 

BABYLON

.

Vector2

(

1.0

,

 

0

)

,

 

20

,

 

1.0

,

 

null

,

 

null

,

 engine

,

 

false

)

;
Create an effect with multiple post processes
var

 blackAndWhiteThenBlur 

=

 

new

 

BABYLON

.

PostProcessRenderEffect

(

engine

,

 

"blackAndWhiteThenBlur"

,

 

function

(

)

 

{

 

return

 

[

blackAndWhite

,

 horizontalBlur

]

 

}

)

;

standardPipeline

.

addEffect

(

blackAndWhiteThenBlur

)

;
Add pipeline to the scene's manager and attach to the camera
scene

.

postProcessRenderPipelineManager

.

addPipeline

(

standardPipeline

)

;

scene

.

postProcessRenderPipelineManager

.

attachCamerasToRenderPipeline

(

"standardPipeline"

,

 camera

)

;
Post Process Render Pipeline Example